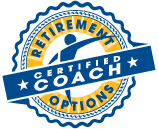 Retirement Options is pleased to announce that 20 new coaches have earned their certification in the use of the Retirement Success Profile™ and LifeOptions Profile™, two non-financial retirement planning assessments designed to help individuals plan for and enjoy a more fulfilling retirement.
Chapel Hill, NC (1/21/16) – Retirement Options, the leading global provider of retirement coach certification and retirement readiness assessments, announced today that 20 additional coaches from around the world have achieved the designation of Retirement Options Certified Coach.
Those recently certified include Joanna Maxwell; Robin Goodbary of Rightly Successful; Kathryn Fahey of Your Ideal Retirement; Mary Dankowski of Not All About the Money; Tammy Dewar of Calliope Learning; Peter Finlon of Triple/Double Coaching; Kerstin Cardenas; Joe Casey of Princeton Executive Coaching; Ruth Ann Hogan; Rick Wright of Executive Transformations, Inc.; Ann Nelson of Retire Well, Retire Happy; Tom Ucko of Ucko Coaching; Nuri Masriera; Janet Foran of Successful Shifts; Laurence Bussetti; Willie Holbert of Coaching Life; Melanie Thomas; John Edwards; Margo Geller of Margo Geller & Associates; and Pearl Wong.
Individuals seeking to join the global network of retirement transition coaches certified by Retirement Options must complete either a 10-week webinar or self-study certification course. The course provides in-depth training to ensure coaches are well versed in the use of two scientifically designed and validated assessment tools, the Retirement Success Profile™ and LifeOptions Profile™.
"The assessments these coaches are now certified to administer explore areas of retirement that many don't consider," commented Sharon Imperiale, Chairperson of the Board at Career Partners International, the parent company of Retirement Options. "Individuals often only consider financial preparation for retirement to the detriment of other areas of their lives that require planning and consideration to ensure enjoyable later years."
Coaches certified through Retirement Options use the scientifically designed assessments to assess retirement readiness and establish the foundation of retirement life plans. Retirement Options Certified Coaches have successfully assisted thousands of individuals, couples and employees of corporate clients in assessing and exploring areas of their lives such as work, family, leisure, wellness and personal development. They are experts on the subject of retirement planning and are regularly asked how to best prepare for this major life transition.
Retirement Options features a directory of over 800 certified coaches around the world, helping individuals connect with local certified coaches to provide guidance and encouragement towards creating their retirement dream.
The next webinar certification course will be held from February 22 – April 25, 2016, and will be led by retirement planning expert Joanne Waldman, the Director of Training for Retirement Options. For more information about the certification course, email Corine Neal at success@retirementoptions3.azurewebsites.net.