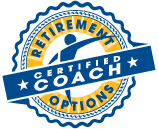 COLUMBUS, OHIO (PRWEB) APRIL 23, 2019
Retirement Options, Career Partners International's leading global provider of retirement coach certification and readiness assessments, has helped over 50 new global coaches to achieve the designation of Retirement Options Certified Coach. This certification allows the expert use of Retirement Options Retirement Success Profile™ and LifeOptions Profile™, two non-financial retirement planning assessments designed to help individuals plan for and enjoy a more fulfilling retirement.
Those recently certified include Saundra Loffredo of Perfect for You Coaching, LLC; Caroline Anzur of Caroline Anzur Coaching; Derek Dolan of dereklifecoaching.com; Sharon Dean of Your Life Unlimited, LLC; Douglas (Bus) Barnes of RetireNOW, LLC; Bob Coulson of Retirement Life Coach, LLC; Enrique Marin of Retirement Advising; Madi Hanekom of Madi Hanekom Executive and Leadership Coach & Mentor; Susan Farling of Holistic Lifestyle Retirement Coaching; Lise Arsenault of Professional and Retirement Coach; Ford Myers of Career Potential, LLC; Janet Kodish of My Big UnRetired Life; René Vernon of Next Steps Retirement Coaching; Caroline Philippe of Life Coaching 4 Retirement; Kathleen Martin of Martin Retirement Coaching; Kathleen Cavanaugh of 7809 Partners, LLC; Maureen Miller of Maureen Miller Coaching; Robert Corbett of Americas Leadership & Team Coaching; Craig Bothwell of VISTALIGN; Wendy Lacroix of Valhalla Retirement Transitions & Coaching; Kirk Bailey of Life Rediscovered; Amy Weals of Late Bloomer Coaching; Tracy Grajewski of Laurel Summit Insights; Nancy Collamer of MyLifestyleCareer.com; Peggy Floria of International Coaching and Consulting; Eileen Richmond of Aha! Retirement Coaching; Denise Daigle; Anne Totin; Mindi Wells; Adams Wells; Michael Vinitsky; Humberto Corona Vazquez; John Ebert, Sharmistha Chatterjee, Elizabeth English, and Sharon Harrell.
Retirement Options Certified Coaches are equipped with the tools, training, and support to effectively coach the largest demographic in the world. Become certified in the administration, feedback and application of two world-class assessments, the Retirement Success Profile™ and LifeOptions Profile™, to help clients prepare for and enjoy a more fulfilling retirement. Available exclusively to Retirement Options Certified Coaches, these assessments deliver the accurate, personalized, and comprehensive information you need to provide high-impact retirement coaching.
Over 800 worldwide coaches certified through Retirement Options use the scientifically designed assessments to evaluate retirement readiness and establish the foundation of retirement life plans. Retirement Options Certified Coaches have successfully assisted thousands of individuals, couples, and employees of corporate clients in assessing and exploring areas of their lives such as work, family, leisure, wellness, and personal development. They are experts on the subject of retirement planning and are regularly asked how to best prepare for this major life transition.
The Retirement Options Webinar Certification Course is accredited by the International Coach Federation (ICF) for Continuing Coach Education (CCE) hours.
The next webinar certification course will be held from August 5 – October 14, 2019 with weekly webinars on Mondays, and will be led by retirement planning expert Robin Trimingham, Certification Trainer for Retirement Options.
About Retirement Options
Founded in 1989, Retirement Options is the industry leader in retirement coach certification and retirement readiness assessments. Through its two retirement readiness assessments, the Retirement Success Profile™ and the LifeOptions Profile™, Retirement Options provides a foundation for individuals to plan for and enjoy a more fulfilling retirement by exploring various aspects of life impacted by retirement such as work, family, leisure, wellness, and personal development. Retirement Options is a division of Career Partners International.